ACTION PLAN
Courtesy of Emmett Solomon and Restorative Justice Network - get on his list too!
CONTACT - CONTACT by Personal Visit, Phone, Letter, Fax or Email your State Rep & State Senator - preferably once a week.
Yes, the KEY is to connect. If you connect, you help a lot; if you get others to connect, you help more ... find YOUR Texas Representative and Senator and tell them what you think.
Click here to Find YOUR Legislator
Click here to See KEY Committees
EVERY one of the 31 Senators and 150 Representatives have a voice, and you need to tell them. PLUS - if you live in the district of one of the Senate Finance or Corrections committees, or one of the House Appropriations or Corrections committees - all the more crucial.
Find out who represents you above - and CONNECT
Also contact your Statewide Officials:
1. The Honorable Rick Perry, Governor's Office, P O Box 12428, Austin TX 78711 - no email, Website Contact
> > > Visit Governor Perry on his Facebook Page Too!
2. The Honorable David Dewhurst, Lt. Governor's Office, P O Box 12068, Austin TX 78711 - 512.463.0001, fax 512.936.6700
3. The Honorable Joe Straus, Speaker of the House, P O Box 2910, Austin TX 78768 - phone 512.463.1000, fax 512.463.1064
Frightening Reality -- The Texas budget cutters cut the entire Chaplaincy Department in the first version of HB 1 by LBB. Some progress has been made, but Chaplaincy is not safe yet. TIME - We Don't Have Much TIME - Months!
Get the Save Chaplaincy Document Summary
V Click on Summary below V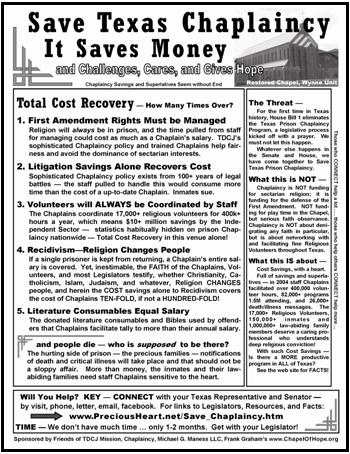 Pass Message to Everyone in Texas

one who CONNECTS helps a lot,
one who helps others to CONNECT helps even more
Get a full copy of
Key Texas Committees
TEAM = Together Everyone Achieves More
See cumulative up-dates here - to see what others have done and encourage others
1 - Cumulative Up-Date #1-8, 01-30-11 on Action Plan
2 - Cumulative Up-Date #9-14, 01-12-11 on Action Plan
Senate Committee on Finance, cities of Dist. Offices
Chair Sen. Steve Ogden - Dist. 5 - Bryan
V-Chair Sen. Juan Hinojosa - Dist. 20 - McAllen & Corpus Christi
Sen. Bob Deuell - Dist. 2 - Greenville & Mesquite
Sen. Robert Duncan - Dist. 28 - Lubbock, San Angelo, Childress
Sen. Kevin Eltife - Dist. 1 - Longview, Tyler, Texarkana
Sen. Craig Estes - Dist. 30 - Denton, Sherman, Wichita Falls
Sen. Eddie Lucio, Jr. - Dist. 27 - Brownsville, Weslaco
Sen. Jane Nelson - Dist. 12 - Grapevine
Sen. Dan Patrick - Dist. 7 - Houston
Sen. Kel Seliger - Dist. 31 - Amarillo, Big Spring, Odessa, Midland
Sen. Florence Shapiro - Dist. 8 - Plano
Sen. Royce West - Dist. 23 - Dallas
Sen. John Whitmire - Dist. 15 - Houston
Sen. Tommy Williams - Dist. 4 - Beaumont & The Woodlands
Sen. Judith Zaffirini - Dist. 21 - Laredo & San Antonio
Senate Committee on Criminal Justice, cities of District Offices
Chair Sen. John Whitmire - Dist. 15 - Houston
V-Chair Sen. Joan Huffman - Dist 17 - Lake Jackson & Houston
Sen. John Carona - Dist 16 - Dallas
Sen. Rodney Ellis - Dist. 13 - Houston & Missouri City
Sen. Glenn Hegar - Dist. 18 - Katy
Sen. Juan Hinojosa - Dist. 20 - McAllen & Corpus Christi
Sen. Dan Patrick - Dist. 7 - Houston
Senate Com. Finance BY cities of District Offices
Amarillo, Big Spring, Odessa, Midland - Sen. Kel Seliger - 31
Beaumont & The Woodlands - Sen. Tommy Williams-
Big Spring, Amarillo, Odessa, Midland - Sen. Kel Seliger - 31 -
Brownsville & Weslaco - Sen. Eddie Lucio - 27 -
Bryan - Chair Sen. Steve Ogden - 5 - Childress, Lubbock, San Angelo - Sen. Robert Duncan - 28 -
Corpus Christi & McAllen V-Chair Sen. Juan Hinojosa
Dallas - Sen. Royce West - 23 -
Denton, Sherman, Wichita Falls - Sen. Craig Estes
Grapevine - Sen. Jane Nelson - 12 -
Greenville & Mesquite - Sen. Bob Deuell - 2 -
Houston - Sen. Dan Patrick - 7 -
Houston - Sen. John Whitmire - 15 -
Laredo & San Anto - Sen. Judith Zaffirini 21
Longview, Tyler, Texarkana - Sen. Kevin Eltife - 1 -
Lubbock, San Angelo, Childress - Sen. Robert Duncan - 28 -
McAllen & Corpus Christi V-Chair Sen. Juan Hinojosa
Mesquite & Greenville - Sen. Bob Deuell - 2
Midland, Amarillo, Big Spring, Odessa - Sen. Kel Seliger - 31 -
Odessa, Amarillo, Big Spring, Midland - Sen. Kel Seliger - 31 -
Plano - Sen. Florence Shapiro - 8 -
San Angelo, Lubbock, Childress - Sen. Robert Duncan - 28 -
San Antonio & Laredo - Sen. Judith Zaffirini - 21 –
Sherman, Denton, Wichita Falls - Sen. Craig Estes
Texarkana, Longview, Tyler - Sen. Kevin Eltife - 1 -
Tyler, Longview, Texarkana - Sen. Kevin Eltife - 1 -
Weslaco & Brownsville - Sen. Eddie Lucio, Jr. - 27 -
Wichita Falls, Denton, Sherman - Sen. Craig Estes
Woodlands, The, Beaumont - Sen. Tommy Williams - 4
Senate Com. Criminal Justice BY District Offices
Corpus Christi & McAllen - Juan Hinojosa - 20
Dallas - John Carona - 16
Houston - Chair John Whitmire - 15
Houston - Dan Patrick - 7
Houston & Lake Jackson - V-Chair Joan Huffman - 17
Houston & Miss. City - Rodney Ellis - 13
Katy - Glenn Hegar - 18 -
Lake Jackson & Houston - V-Chair Joan Huffman
McAllen & Cor. Christi - Juan Hinojosa - 20
Missouri City & Houston - Rodney Ellis - 13
House

Appropriations and cities of District Offices
House Committee on Corrections

, cities of Dist. Office
House

Appropriations

BY

cities Dist. Offices
House

Committee on Corrections

BY

cities of District Offices