Texas State Chaplaincy
<![if !supportLineBreakNewLine]>
<![endif]>
Chaplaincy Market Data
D
Introductory Remarks on Market Data
1.  Federal Bureau of Prisons (FBOP) & Veterans Administration (VA) Chaplains ~ What the Market Says
2.  Military Chaplains ~ What the Market Says
3.  Association of Professional Chaplains (APC) ~ What the Market Says
4.  National Church Staff Compensation Survey ~ What the Market Says
5.  UTMB Chaplains ~ What the Market Says
6.  Closing Remarks on "Market Data":  Everywhere One Looks – There is a Clear Call for Chaplain Equality 
More than that – more than even our clear claims to an equitable "market" increase – let the record stand that we came FIRST and foremost and do stand today in this manner:  we laid claim AND demonstrated the VALUE of our job and love for our job FIRST, as a significantly more important "reason" for equality within TDCJ than the reason of "market value."  That is:  We Value the Value more than the Market.
So in addition to and as a complement to the more important documentation of chaplaincy "value" to the agency and "value" to Texas and Texas' own mission statements, we also include the following "Market Data" as substantiating the NEED for Chaplain Professional Equity. 
However, another element enters picture that also distinguishes the Professional Chaplaincy Services of Texas.  Unlike most of the other professions, were there are literally hundreds of thousands, determining "Market Value" of the comparatively rare specialty of "Government Sponsored Chaplaincy" can almost be accomplished in an absolute manner.  That is – the numbers are so much more clearly articulated.
Furthermore, from a "Market" standpoint, let it be noted where the Navy stands.  I asked an authority to verify and clarify my stats on the Navy, especially with respect to the Marines and Coast Guard: 
We have TWO Navy Admirals, a "2-star" (O-8) Chief of Chaplains and a "1-star" (O-7) Deputy Chief of Chaplains.  The Deputy Chief of Chaplains is also the Chaplain of the Marine Corps.  Additional we have one "1-Star" (O-7) Reserve Admiral who is the Deputy Chief of Chaplains Total Force.
I cannot give you a footnote as to the numbers but you can rest assured that total numbers you are using are close.  I hope this helps.<![if !supportFootnotes]>[1]<![endif]>
With respect to "Professional Equity" then we must look across the board – that is, a good assessment would include a thorough look at equivalent placements in the various superstructures of the organizations that employ chaplains in "today's" market.  Here is a recent quote from the Houston Chronicle
WASHINGTON - President Bush fainted briefly Sunday evening after choking on a pretzel while watching a football game in the White House residence, an administration spokesman said.
The president , who was examined by Dr. Richard Tubb, an Air Force colonel and physician at the White House, was not found to have any serious health problems and went to bed early after a dinner of soup and salad.<![if !supportFootnotes]>[2]<![endif]>
Of course, as the following most clearly shows, fully credentialed chaplains have been found to fill the top posts that look after the "Profession" of chaplaincy.  How is it that Texas cannot have a full spectrum of Chaplaincy Positions similar to that of Engineers and Lawyers?  If one really looks at the three professions, their responsibilities, networks and broad scopes, how can Chaplaincy be placed so very far below the other two?  In the light of the "Market" how can TDCJ or any state agency justify hiring those for chaplaincy positions with not even a bachelor's degree to deal with the Texas' most troubled persons with humanity's greatest resource of change?  How is it "wise" or to the benefit of Texas that such a broad and multi-faceted profession as "Chaplaincy" with all of the complexities involved – HOW can the "Chaplaincy Profession" prosper or be secure without "Chaplains" as supervisors of Chaplains. 
 "Market Data" was exclusively important to the State Auditor's Office, and so we offer the following items as clear and a near full analysis of the market of "Government Chaplaincy." 
 Introductory Remarks on Market Data
 A.  Federal Bureau of Prisons (FBOP) & Veterans Administration (VA) Chaplains ~ What the Market Says
 B.  Military Chaplains ~ What the Market Says
 C.  Association of Professional Chaplains (APC) ~ What the Market Says
 D.  National Church Staff Compensation Survey ~ What the Market Says
 E.  Closing Remarks on "Market Data":  Everywhere One Looks – There is a Clear Call for Chaplain Equality 
All the more credible is the market data supporting Chaplain Professional Equity when nearly the whole corpus of material on Government Chaplaincy is seen together – that is, "IF" the market data is actually as important as the State Auditor's has claimed it to be. 
Even so – we would rather stand behind our defenses of the "value" of the Chaplaincy Profession to Texas and our agencies' missions – that is, stand behind the higher value of "value" to the state, to the state's clients and to the families and staff of all involved.  Of course, the services recover cost too.
<![if !vml]>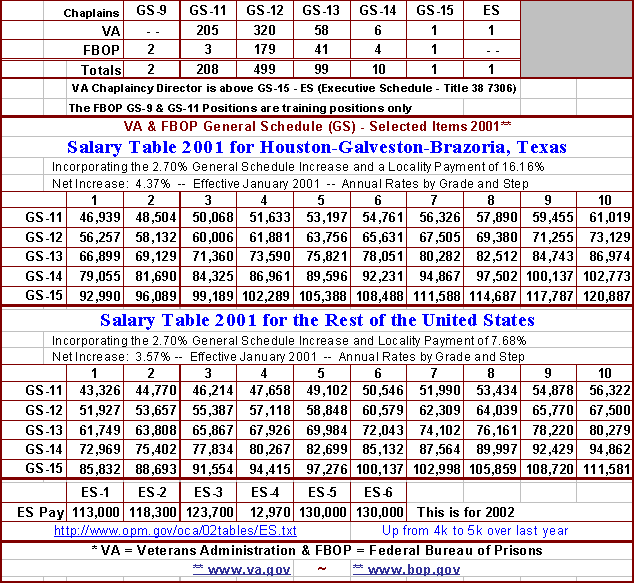 <![endif]>
<![if !supportEmptyParas]> <![endif]>
<![if !vml]>
<![endif]>
<![if !vml]>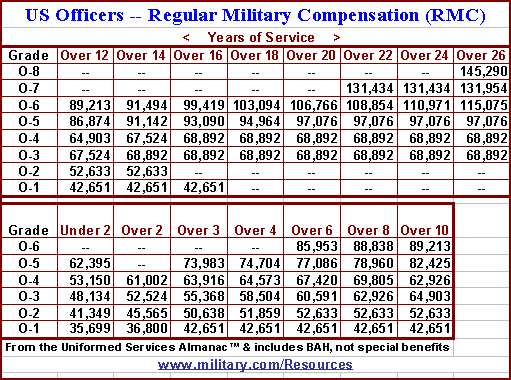 <![endif]>
<![if !supportEmptyParas]> <![endif]>
<![if !vml]>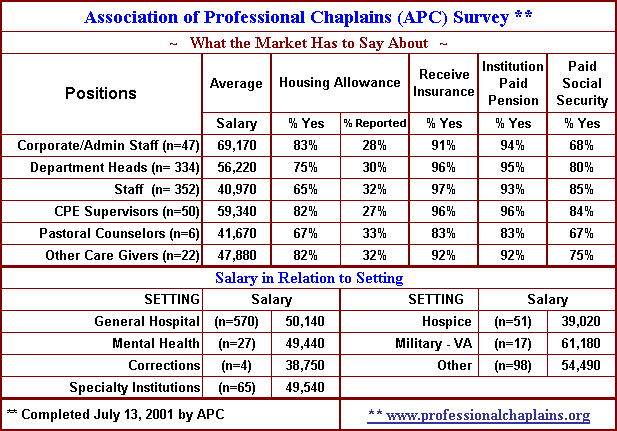 <![endif]>
This is such a good survey, so VERY much indicating the need for Chaplain Professional Equity for TDCJ's and the state's chaplains.  So few – "4" – are in corrections.  The vast majority in hospitals and other places where their salaries are competitive.  Compared with the others above, clearly, the chaplains in Texas merit "Professional Equity" vis-à-vis the other professions in Texas.
<![if !vml]>

<![endif]>
The point of Chaplain Professional Equity with respect to UTMB is clearly with respect to a "State" funded position at an equitable rate, still below the national norm, but decent.  More specifically, when the size of the tasks are enumerated, one asks why does the TYC chief of chaplain, the single Chaplain III have to supervise the entire chaplaincy corps, with ten chaplains short, provide pastoral care for 4 independent TYC facilities and he has no separate office or help?
<![if !vml]>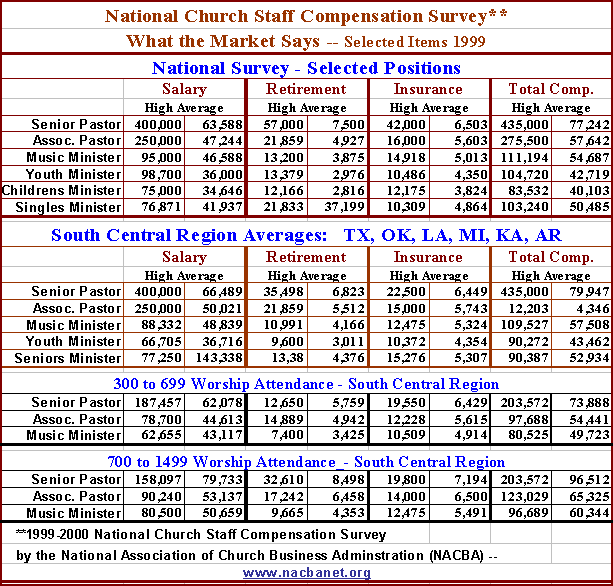 <![endif]>
Chaplain "have" to have experience in the ministry prior to entering into any credible chaplaincy service.  This reflects the professional market in church ministry, from which the great preponderance of chaplains come.
5.

 

Survey of Pastor Salaries:

 

Texas and National 2002
2002 SBC Compensation Study was a joint project of 35 Southern Baptist state conventions in cooperation with the Annuity Board of the Southern Baptist Convention (SBC).  The report were based on a survey conducted during the spring of 2002 and included compensation data for more than 19,000 individuals in over 8,000 SBC churches.  All amounts are ANNUAL AMOUNTS for 2002.  The data is located at:  http://server.kybaptist.org/public/compstdy.nsf, from which the following was culled.
<![if !supportEmptyParas]> <![endif]>
6.

 

Closing Remarks on Market Data:

 

Everywhere One Looks –
There is a Clear Call for Chaplain Equality in Texas

             

TOP
With these then, as the many State Auditor's reports clearly indicate, MANY sources of data makes the data more reliable.  And the data is most reliable when it does NOT have to be collected from a "survey" and is all the more reliable and informative when the date comes straight from the raw facts – like those above.  Though it is nice to have surveys too.
Now we have brought some good market data that in an extraordinary manner supports our claim to equality.
<![if !supportEmptyParas]> <![endif]>
<![if !supportEmptyParas]> <![endif]>
Since Good Market Data was "imperative" and so "singularly" important to the State Auditor's Office, then WITH irrefutable market data in hand, the granting of full Chaplain Professional Equity should be expedited, as outlined here in this proposal, from the market data alone, as well as for the "job's" sake, and as well as for the 40+ years lapse of attention, the "job's contribution" to the mission critical functions and of course because of it's recovery of it's own operating costs.
The REAL question becomes this: 
"Is There a CREDIBLE Reason NOT to Grant Equality?"
A "real" reason other than, "I just don't see the need"?  By God, let us address it.  We Chaplains are citizens, too, and have a fundamental right to discuss it.
<   Chaplaincy Recovers ENTIRE Operating Costs – 3x over   >
Chaplaincy Contributes in Extraordinary Manner to
EVERY Mission Critical Function
Chaplains Need Equality & Logistical Support