My Daddy – Morris Smith
by M.G. Maness, December 2002
Dedicated to Kathy and Her Family
I am Kathy, or Kathy Sue Smith, if you please.
My clan and I live on a farm full of big trees.
My Daddy and Mama raised me up right, you'll see—
<![if !vml]>

<![endif]> We've had a great and fun life, though not so easy.
To me, our Daddy was so very precious and unique;
Thinking of him often brings a tear to my cheek.
He was as tough as nails, working all day long;
To me his boyish grin was so beautiful and strong.
If I got out of line, he'd give me that hard look:
I could not disappoint him, and that's all it took.
It took a bit more for Brenda, Joe, James and Jim—
Perhaps an eyebrow or a shift of the chin.
My Daddy wore blue overalls like so many,
With one strap never clipped to that copper penny;
Maybe Daddy felt he needed that shoulder bare,
So that every day he might just carry our care.
<![if !vml]>
<![endif]> My Mama, Bessie to most, kept him fed and wise,
Making each day fun, fun from sunrise to sunrise.
With Mama's dad, Pa Sam, there was always a laugh;
With Pa Sam you'd never know who'd have the last gaff.
Daddy and Pa Sam—oh, what fun, they'd always pick;
As they said, "we couldn't kill'em with a death stick."
None of us were strangers to the family pick'en:
All of us got our share of good home-grown ribb'en.
Daddy and Mama loved all of us kids so much:
Though we didn't have a lot, nothing was out of touch.
Daddy so loved to kindly talk and boldly share,
And a grandson would get a dirty joke told bare.
Daddy, Mama—in ALL the grandkids took great pride,
So very much enjoying each growth spurt or stride.
Whether in the yard, the kitchen or pumpkin patch,
Mama and Daddy loved the grandkids—that's a fact.
Daddy loved his mooing cows and his dairy barn:
Milking, mooing and feeding—how many a yarn?
In those long days, Daddy worked the hardest of all:
From OUR Daddy you'd never hear a plaintive call.
Oh yea, you should've seen our five acre gardens:
A year of peas, then watermelons or pumpkins.
It was a joy to see and play and work, work, work—
And wow to the person if their work they did shirk.
<![if !vml]>
<![endif]> One year, I bought some sunflower seeds, even me;
Daddy grew a sunflower garden for even Kathy.
For me, Daddy would fry chicken in the morning,
And he'd be so kind to me if I was hurting.
The day Daddy got his new tractor, big and red—
I often think of it, even when I'm in bed.
<![if !vml]>

<![endif]> Of that big tractor, Daddy was so very proud:
Running smooth and strong, Daddy would not hear a crowd.
And who could stand to drive 20 miles an hour?
How many on those back roads Daddy would make sour?
Just a sputtering along in his old work truck,
He would talk and talk to me and never get stuck.
Daddy never did like to spend too much money;
And he would make everything last, and that is funny.
We'd buy stuff and sneak, sneak it through the window pane,
One time finding Daddy there helping with a pain.
Memories of all of us great kids cloud my mind;
There they were, Daddy and Mama, without a bind.
Us kids and grandkids would work and play every day,
Yet our life would turn on whatever they would say.
Now down in the old graveyard my Daddy does lay,
Where the dandelions blossom and bees do play.
I do visit Daddy as often as I can,
And I think again of my Daddy and Pa Sam.
<![if !vml]>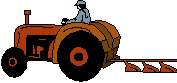 <![endif]> My mama, family and I will one day join him there.
We'll all join hands once again in heaven up there:
Where in a great field of happiness we will share
Once again—our great family—with all of us there.