---
PreciousHeart-BrokenHeart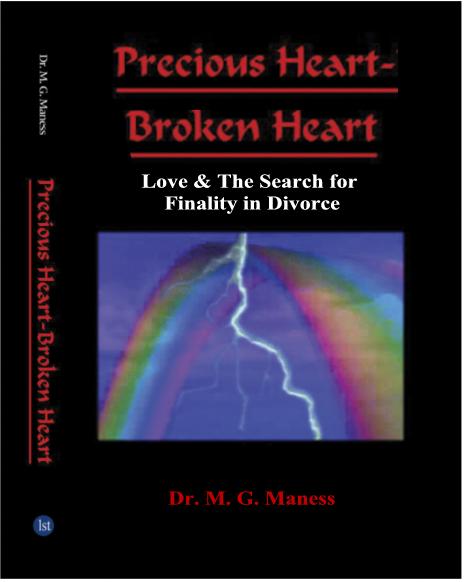 Paperback ISBN 9781434391438 $16.50
Hardcover ISBN 9781434391445 $20.50
More than a chronicle, I walk you through an actual description of the
unique pain of divorce in contrast with the pain encountered during bereavement.
I begin and end with love.
Michael G. Maness, 1995
See Divorce Archive for more resources on divorce
Part 1: Clockwork--Need for Expression
I. The Beginning <<< See the First Chapter -- Buy the Book
I Loved Her
Crash & Doubt
Pendulums of Pain & of Hope
II. How Will Healing Come?
1. The Mainspring of Expression
--Fig. 1: Healing Clockwork
2. My Expression
3. Caution About Expression
4. The Length of Healing
5. Formula for Healing
Part 2: Black Forest Pathway-- How Expression Unfolds
III. What Does Love Have To Do with Divorce?
1. What Is Love?
2. We Fell in Love
--What Kind of Wanderer poem by author
3. What Kind of Love Can Survive Divorce?
--Fig. 2: Struggle with the SHOCK of a BrokenHeart
4. How Broken Is My Heart?
IV. Can My Faith Survive?
1. The Judgment Seat
2. A Passing Biblical Overview
3. The Exact Point of Exposition
4. Divorce & Christian Compassion
V. Just What Is a Divorce?
1. A Tragic Reality of the Times
2. The Definition of Divorce
3. Forces of Conflict that War Against Love
4. A Primer on the Pre-Divorce Stage
VI. Why Do I Have Such Trouble?
1. Love Is Naturally Committed
2. The Ethical Dilemma of Justifying Any Divorce
3. The Pre-Divorce Stage: A Mortally Wounded Soul
--Fig. 3: Struggle with FINALITY in a BrokenHeart
4. A Primer on the Shock Stage
5. Love Does Not Let Go Easily
6. The Differences Between True Love & Obsession
VII. What Do I Do with the "SHOCK" of It All?
1. Find a "Credentialed" Confidant
2. Do Not Be Rushed
3. See the Tragedy as Tragedy
4. Know that "Time" Is Irrelevant
5. Note the Permanent Scar
6. Take the Challenge of Growth
VIII. What Does It Feel Like To Be in a WASTELAND?
1. Let Those Who Know Be Kind
2. Shock Stage: "Is This Really Happening to Me?"
3. The Wasteland: A New Beginning, A New Pain
--The Wasteland poem by author
4. Finding Direction in the Wasteland
5. Rejection: The Loneliest Hour
--Loneliness poem by author
IX. What Is the Nature of Grief?
1. Grief: Universal & Unique
2. Two Tasks of Grief:
1. Identifying Needs/Binding Ties,
2. Loosening Ties
3. Grief Task 1: Finding Needs, The Binding Ties
4. Grief Task 2: Setting Free, Loosening the Binding Ties
5. The Healing Forces of Self-Discovery & Expression
X. Intermission: The Bay of Heart-Brokenness
XI. Grief Task 1: What Needs & Binding Ties?
1. Identifying the Needs: the Binding Ties
2. Discovering the Self & Frailties
3. Running From Grief: Judas & Other Forms of Running
4. Love & Forgiveness
--Lovelorn poem by author
5. Toward a Higher Level of Loving
XII. Grief Task 2: How Do You Loosen the Binding Ties?
1. Bridge of Finality: What Delays the Approach
2. Bridge of Finality: Successful Navigation
3. Bridge of Finality: Arrival
4. True Healing Begins Here
--Fig. 4: FULL Struggle of a BrokenHeart
--Hope-Trip ... of a Broken Heart poem by author
Part

Three

:

Black

Forest--What Helps Expression
XIII.

What Factors Inform Us About Binding Ties?
Intro: finding What the Departed Meant To Us
1. First Factor: Our World Experiences of Losses in General
2. Second Factor: How Many Experiences Were Shared
3. Third Factor: Our Ability to Love and Receive Love
XIV.

What Is Unique in the Pains of Death & Divorce?
The Unique Pain of Divorce
The Unique Pain of Death
--The Dirge poem by author
XV.

How Do the Pains of Death & Divorce Compare?
Intro: Finality Makes Divorce More Painful
Intro: Do We Minimize Death--Not in the Least
1. Death Is Natural ... Divorce is a Broken Dream
2. Death Is a Religious Value ... Divorce Is a Religious Taboo
3. Death Has Funerals ... Divorce Usually Divides
4. Death Often Immortalizes ... Divorce Often Distorts
5. Death Removes the Loved ... Divorce Changes the Love
XVI.

Is There an END?
---
Poems
by the Author in Order of Appearance
---
my card - < email me - click here > ... shalom